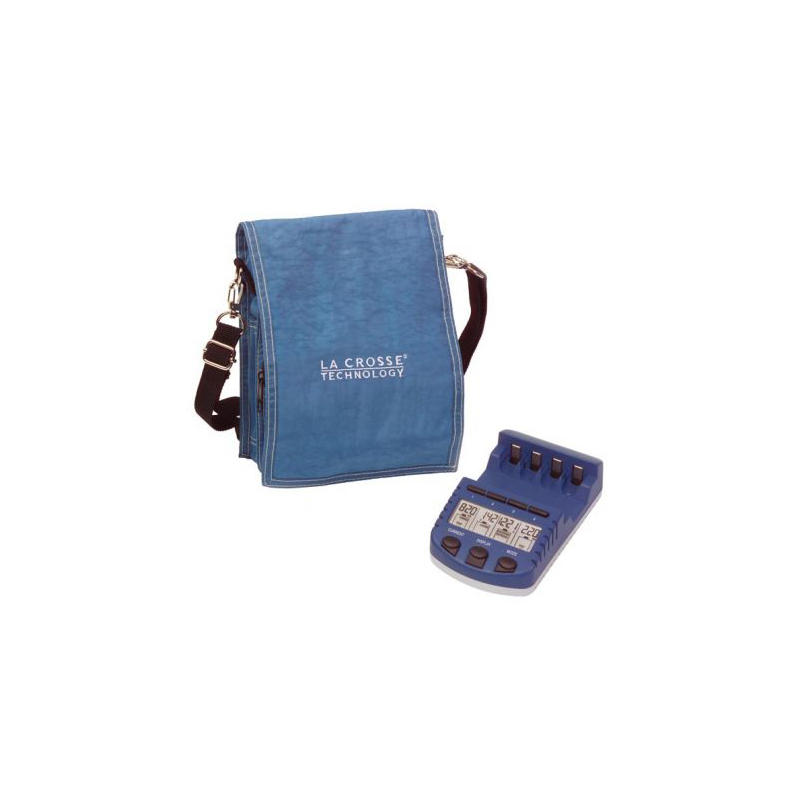 RS1000-BLU
RS1000-BLU
La Crosse Technology
Ultra-quick universal battery charger until 3000mAh
Dimensions
75 x 37,2 x 129 mm (without travel bag)
LCD screen
l LCD Display showing voltage, current charge, mAh and time individually
Discharged
Discharge your battery before the charge in order to avoid what we currently call the memory effect, especially for NiCd cells
Test function
In order to measure the exact capacity of each rechargeable battery under certain discharge conditions (from 100 to 500mA),charge the battery until it is full and
then discharge until it is empty and charge it again.
The capacity in mAh is simultaneously displayed
By this way, bad or low capacity batteries can be sorted out and replaced
Generalities
Universal battery charger for all type of Ni-MH and Nicad batteries from 200 mAh up to 3000 mAh (milliampere-hours).
Included : size (C) battery adapter (4 nos.) & Size (D) battery adapter (4 nos.)
User selectable charge between 200, 500,700, 1000 and 1800 mA
Individual charge is controlled by a microprossessor for voltage, current charge
and temperature
Temperature and reverse polarity detection and protection
Overload and damaged battery detection and protection
Charge
Insert the battery. Select the charge by pressing the "CURRENT" button
several times (from 200 to 1800 mA)
Wait until the display shows "Full"
Refresh
The battery will be continuously charged and discharged with a user selectable
current and the capacity is monitored, until no further increase in capacity is noted. The maximum cycles is 50.
By this way you can reactivate old NiCad or Ni-MH batteries.