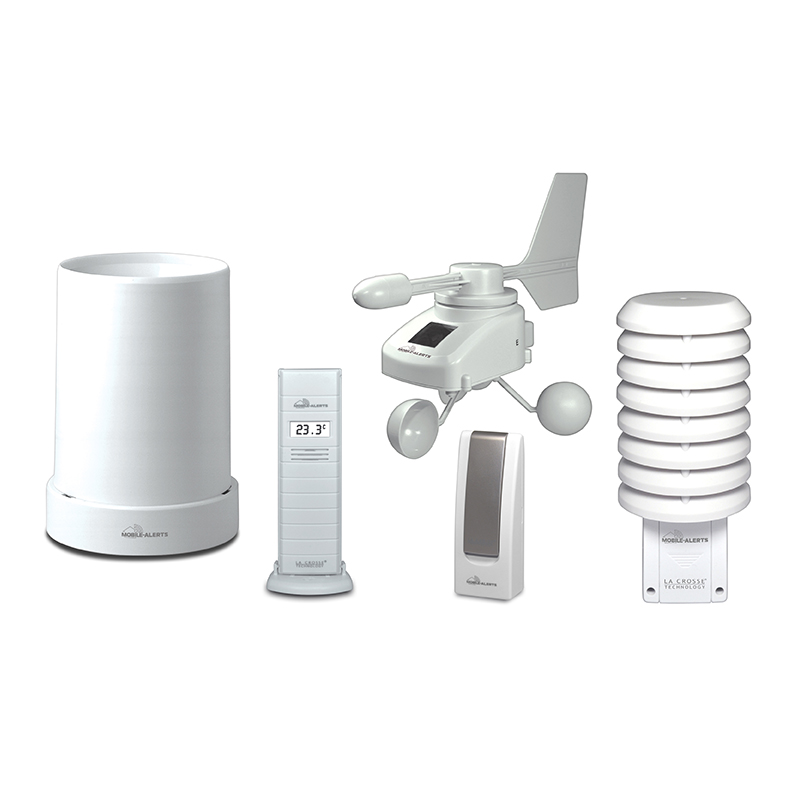 MA10065
MA10065-WHI
Kit Pro Mobile Alerts with gateway
Le kit MA10065 est un véritable centre métrologique qui combine la clarté d'une station météo classique avec le système Mobile Alerts. L'exportation de l'ensemble des données de chaque capteur est possible.
Features
MA10200 : Thermo-hygrometer 868 MHz
Measuring range : -39.9°C to +59.9°C
Accuracy : +/- 1 °C
Humidity measuring range : 20% to 99% RF
Accuracy : +/- 3% RF
Measuring range : 7 minutes
Transmission range : 100m (in open field)
MA10251PRO : Connected Pro outdoor Thermo/hygro sensor with wind sensor repeater
Repeats a wind sensor signal : helps to bridge the distance from the wind sensor on the roof to the gateway in difficult circumstances.
Measuring range for temperature : – 39.9°C to +59.9°C
Accuracy : 1 °C
Measuring range for humidity : 0-99%
Accuracy : 5%
Measurement intervals : 7 minutes
Transmission range : 100m (open area)
Possibility to export data on CSV files
PC connection
MA10000 : Gateway 868 MHz
Dimensions :40 x 103 x 26 mm
Power supply :AC adaptor included
Accessories included : LAN cable for Internet connection
Data :Data can be accessed via Internet from a device with iOS or Android oprating systems by using the Mobile-Alerts app.
Possibility to connect further sensors.
Wind speed and wind direction
MA10660 : Wind meter 868 MHz
Measuring range : 0 – 50 m/s (0-180 km/h, 0-97 nœuds, 0-112 mp/h)
Accuracy: +/- 5%, +/- 0.5m/s
Wind directions : 16 directions
Resolution directions : 22.5°
Measurement Interval : 7 minutes
Possibility to export data on CSV files
Rain
MA10650: Rain meter 868 MHz
Measuring range : 0.0 mm – 300.0 mm/h
Resolution : 0.25 mm
Interval range : rain count if there is a flip of rain bucket. If no rain at all, the rain meter will transmit the old rain count every 2 hours
Transmission range : 100m (in open field)
Transmission of rain data
Possibility to export data on CSV files
Affichage de la partie CAPTEURS