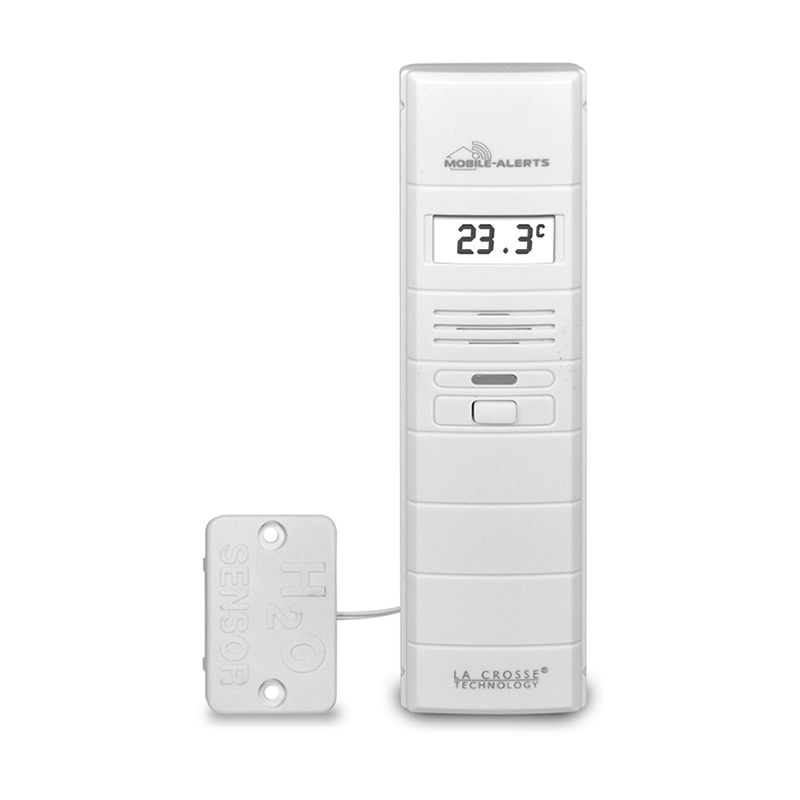 MA10350
MA10350
La Crosse Technology
Thermo-hygrometer sensor with LCD screen and H2O sensor 868 MHz
From wireless sensors with Internet connection via gateway - MOBILE ALERTS worldwide monitors all informations from your home via your smartphone. Via push notification you will be alerted immediately to any fault status. So you can avoid major damage through specific action.
MOBILE ALERTS MA 10001 starter set with Gateway and temperature sensor can be extended with many other wireless sensors, including MA10350.
Generalities
Dimensions : 36.6 x 132.8 x 19.3 mm

H2O sensor dimensions : 45 x 30 x 6.8 mm

Power supply : 2 x LR03, AAA Alkaline

Battery life : 1 year

Measuring range : -39.9°C to +59.9°C

Accuracy : 1 °C

Humidity measuring range : 20-99%

Accuracy : 5%

Measuring interval : 7 minutes

Transmission range : 100m (in open field)

Cable lenght : 1,5m

This sensor is produced to work with « MOBILE-ALERTS » system only. For using this sensor, MOBILE-ALERTS MA10001 gateway is requested.