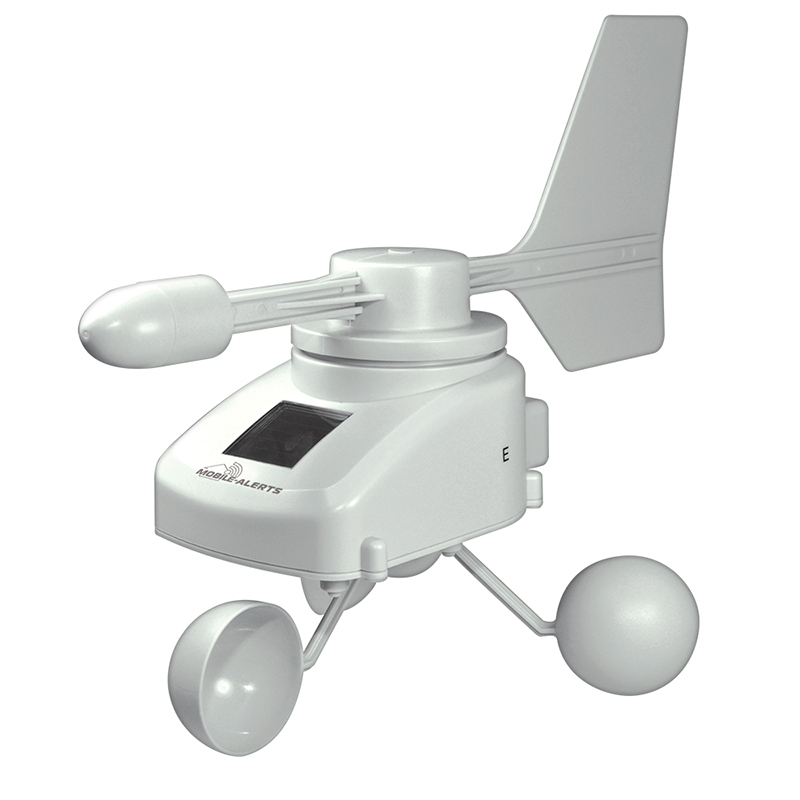 MA10660
MA10660
La Crosse Technology
Power supply
2 x AAA LR3 rechargeable alkaline (included). Batteries charged by solar power cell.
Dimensions
250 mm x 192.3 mm x 145.9mm
Generalities
Display : Current values for wind speed, wind gust and wind direction

Display for all values : In a pie chart or as history

Display for values : Linear and logarithmic history display for ranges, hours, days, weeks and months

Alarm : Alarm setting for certain wind directions, maximum wind speeds and gusts

Summary of measuring informations : Total number of measured values, the most frequent wind direction, the highest wind speed, the strongest gust, the longest time with and without wind

Measurement Interval : 7 minutes

Wind speed : 0.3 to 50 m/s with 0.1 m/s resolution

Accuracy :3% from 1m/s to 20 m/s

5% for others

This sensor is produced to work with « MOBILE-ALERTS » system only. For using this sensor, MOBILE-ALERTS MA10001 gateway is requested.

Use
Il est un capteur destiné pour l'observation de la direction du vent, de la vitesse du vent et des rafales.

Fonctionnalités principales :

•Les valeurs actuelles de la vitesse du vent, des rafales et de la direction du vent

•Affichage de toues les valeurs des dernières 24 heures, 7 jours et 30 jours

•Affichage de toutes les valeurs sur un graphique circulaire ou dans un historique

•Réglage d'alarme pour certaines directions du vent, des vitesses maximales de vent et des rafales

•Affichage chiffré ou sous forme de graphique pour les plages de mesure, heures, jours, semaines et mois

•Résumé de nombreuses information de mesure : le nombre total de valeurs mesurées, la direction du vent la plus fréquente, la vitesse du vent la plus élevée, la rafale la plus forte, la plus longue période avec et sans vent