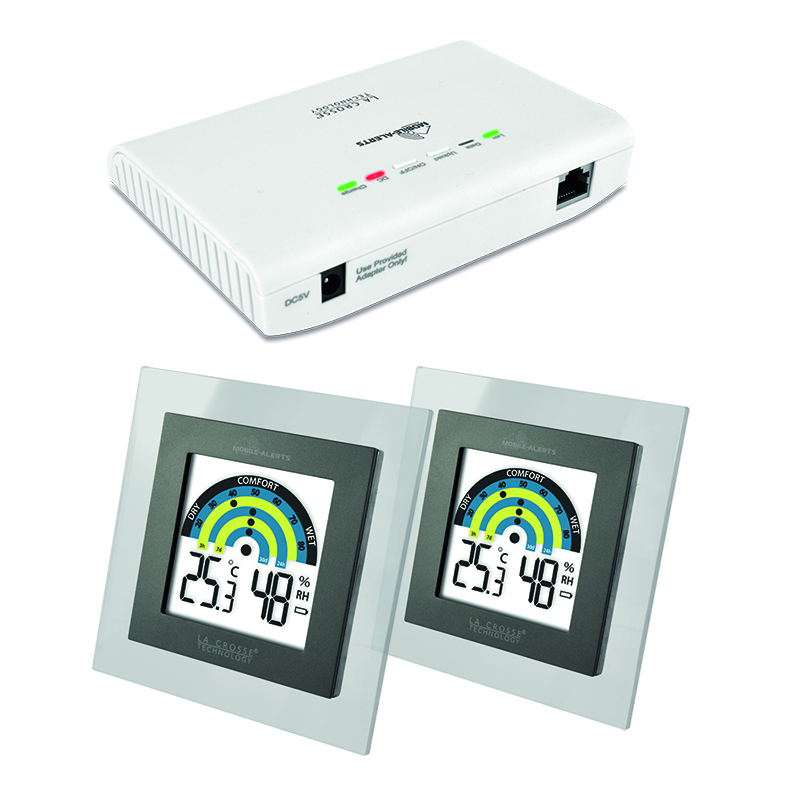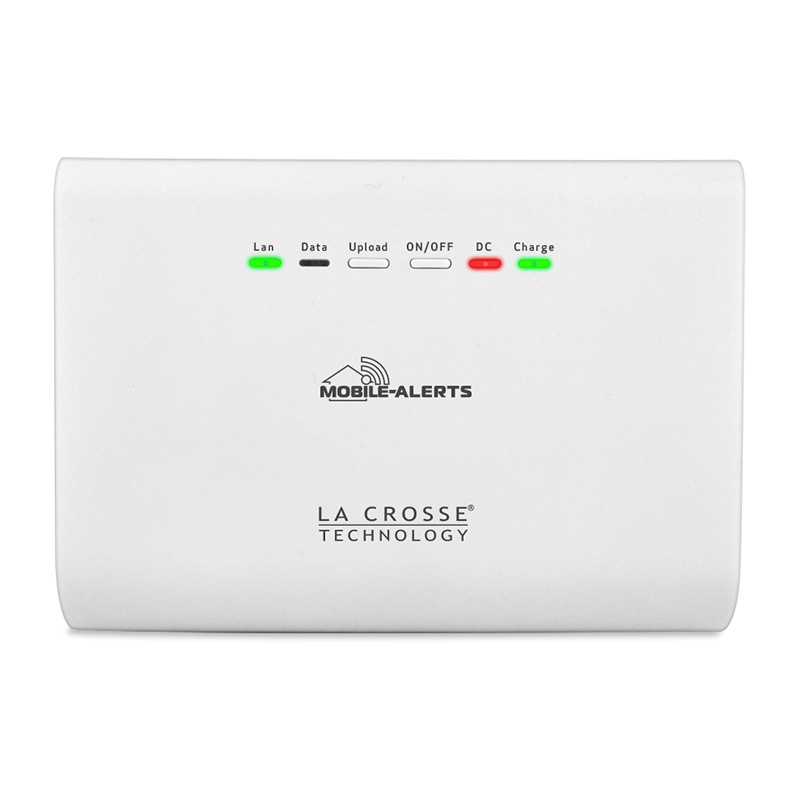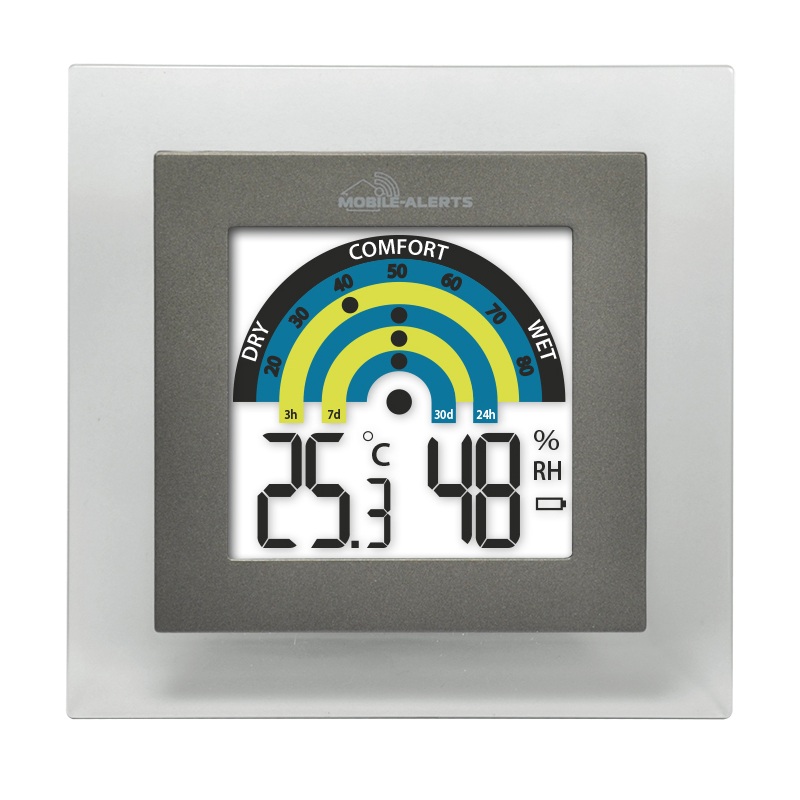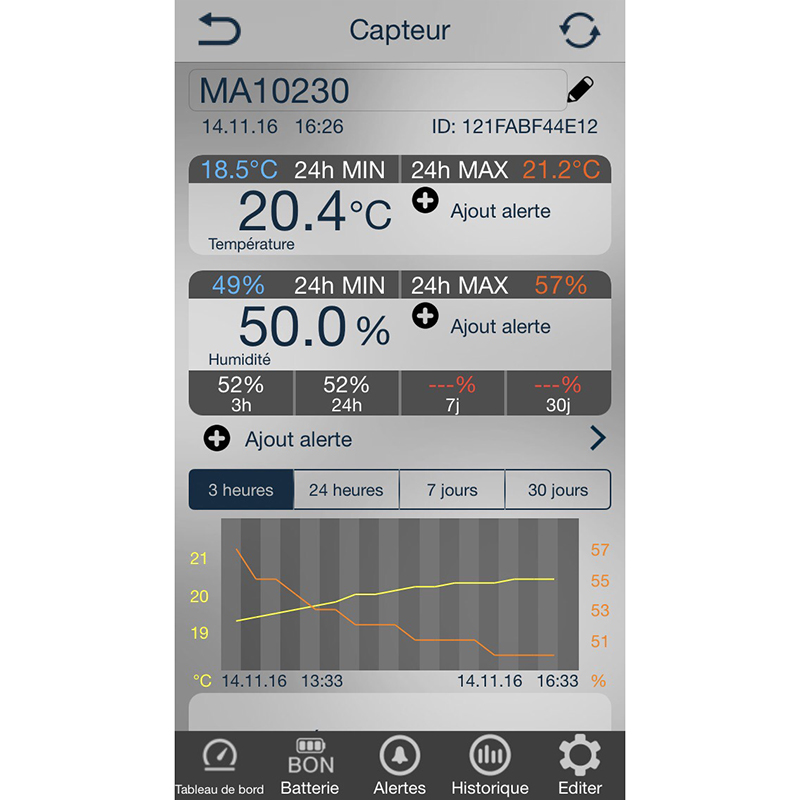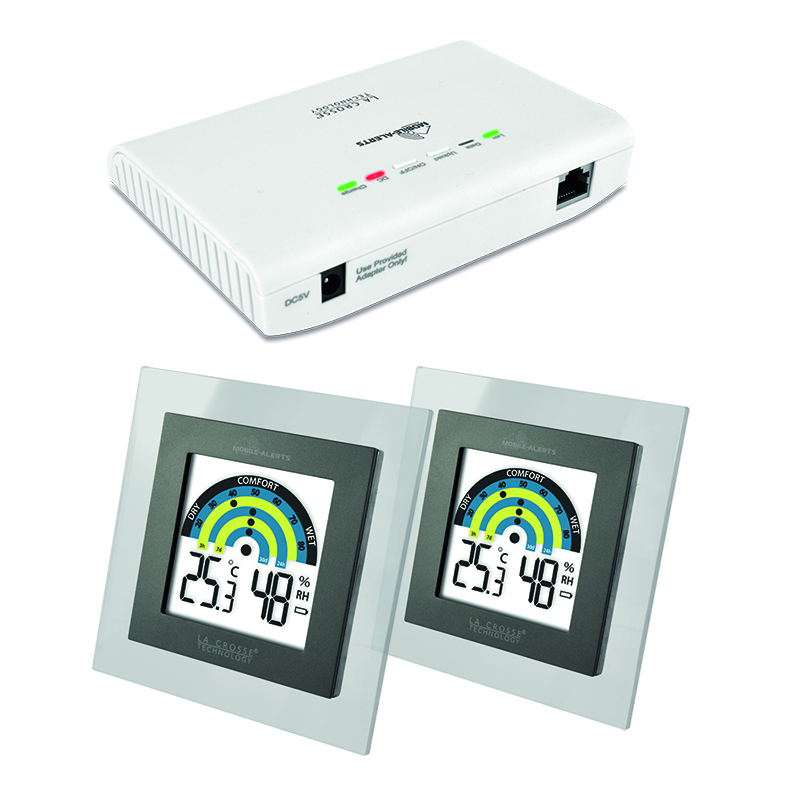 MA11231
MA11231
La Crosse Technology
KIT MOBIL ALERTS with GATEWAY and 2 SENSOR with comfort indicator
MA11022 is a Mobile Alert gateway with backup feature. It contains rechargeable lithium batteries (included) as backup power source. This kit contains a gateway as well as 2 thermo/hygrometer sensors with comfort level indicator.
When AC/DC adapter power is off, the batteries will keep providing power for the gateway to receive MA transmitter data, for up to 12 hours. When AC/DC adapter power is back, the gateway will then transfer the stored data to the server and to Mobil Alerts application.
The internal rechargeable batteries will be charged with AC/DC adapter power.
Generalities
Specifications /b>


Gateway
Dimensions :13.4 x 2.6 x 9.5 cm
Frequency :868.3 MHz
Transmission :150 meters (open area)
Power supply :AC adaptor included
Rechargeable lithium batteries included
Accessories included : LAN cable for Internet connection


Connected Temperature / Hygrometer sensor with comfort level indicator (MA10230)
- Thermo/hygrometer is transmitted immediately if temperature changes more than 1°C o humidity changed more than 3% compared to last transmission
- The regular transmission to gateway is every 10 minutes
- Average humidity over the last 3 hours, 24 hours, 7 days and 30 days are calculated and displayed analog on the LCD, also being transmitted to the server


Temperature range : -9.9 to +59.9 degree °C (0.1 degree °C resolution)
Accuracy : 0.8 °C
Humidity range : 1% to 99% (1% resolution)
Accuracy : From 0°C – 30°C +/- 3% and other measure +/- 4%
Measurement interval : Every 6 s
Transmission interval : At measurement difference of >1°C or >3% RH immediately, otherwise every 10 minutes
Transmission range : 100m (open area)
Batteries : 2 x LR3 AAA size (not included)
Battery life : approx 2 years
Dimensions : 88 (L) x 86.9 (H) x 16.5 (W) mm
App calculates based on current indoor temperature and outdoor temperature/humidity, how humidity will change if the room is ventilated now (MA10200 is needed, optional)